The Cornish coastline is a great place for spotting wildlife. As well as seals, dolphins and sharks, there are plenty of other species to delight and amaze nature-lovers.
Cornwall has some of the most beautiful landscapes in Britain, with an abundance of wildlife including many species of birds, butterflies, turtles, porpoises, small mammals such as otters and many more. In the summer months, migratory birds, such as cuckoos, can be seen – you might even be lucky enough to spot seal pups.
When you're hoping to see the bigger sea creatures in their natural habitat, such as dolphins and sharks, there are plenty of great vantage points for wildlife-watching.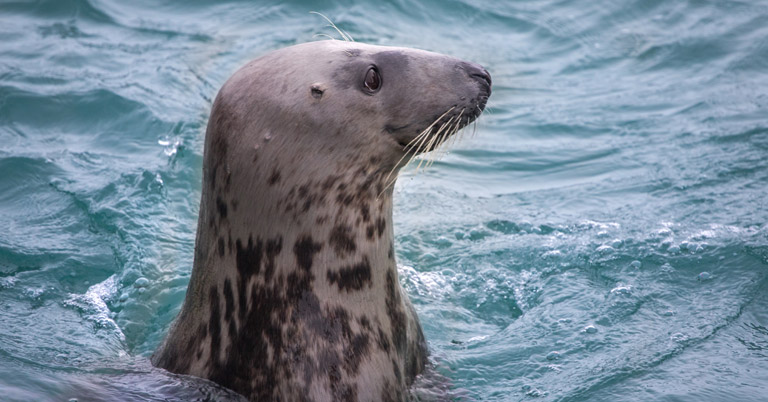 © Hedvika / Adobe Stock
Dolphins
Visitors to the clifftops and harbours along the south-west coast will be able to see dolphins, often in large numbers. You can take a boat trip if you want to take a closer look at these mighty sea mammals. It has been reported how friendly the dolphins are, as they will frequently come up to the boats to be sociable.
The common dolphin has a yellow and grey pattern along its side and travels in a pod of around 50 to 100 individuals. Playful and inquisitive, dolphins will often leap out of the water as they swim, creating a great spectacle for spectators.
Both common and bottlenose dolphins can often be seen around Hella Point, Padstow, Gwennap Head, Porthgwarra Beach, Godrevy Point and Trevose Head.
Sharks
Recognised as the best place in the UK to see sharks, there are at least 20 species found off the Cornish coast. In the summer, the most common shark is the basking shark, which is a large but gentle species. Despite growing up to more than 30ft long and being the second-largest shark in the world, they are peaceful, harmless plankton-eaters.
There have also been sightings of the more predatory species, such as blue sharks, thresher sharks, porbeagle sharks and Mako sharks. Particularly fast, the Mako can reach a speed of 45mph. There haven't been any confirmed sightings of the great white shark yet.
The best places to look for sharks include viewing from the clifftops on the South West Coast Path, but there have been sightings at Land's End, Lizard Point, Sennen, Porthgwarra, Godrevy Point, Pendeen Watch, Trevose Head and Pentire Point.
Basking sharks are a protected species, so there's a code of conduct in place which reminds people they should ideally watch from a distance.
Seals
Numerous colonies of grey seals live around the caves and coves. This is one of the rarest seal species in the world.
Seals are extremely charismatic, thanks to their cute and cuddly appearance, so they are particularly popular for wildlife-watchers. The best vantage point to see seals is Mutton Cove, located at Godrevy Point, where there is a resident colony of around 100 seals. They can be seen from the clifftops, especially in January, when they are often spotted on the sand and rocks below.
Turtles
The leatherback turtle is the most common turtle seen in Cornwall. It can grow to more than two metres long. Normally found in the Central Pacific Ocean, this species is a fast and strong swimmer and will travel thousands of miles from its tropical breeding area.
The cooler temperature of the Cornish seas supports hundreds of jellyfish, which turtles like to eat. Normally seen between August and October, they are the deepest divers of all marine animal species – one measuring a mighty 6ft long was rescued in 2016, when it became tangled up in a buoy between Land's End and Penzance.
Turtles are classed as a critically endangered species, so spectators must abide by the Cornish Turtle Code, which was compiled by the Cornwall Wildlife Trust.
Other creatures
Visitors to the great Cornish landscape can see plenty of migratory birds returning to the UK including the cuckoo and the rare Cornish chough, which appears on the Cornish coat of arms.
Easily recognised by its black and white feathers, large bill and orange legs, the beautiful puffin nests on the Cornish cliffs and on some of the islands dotted around the coast. Particularly prevalent from March to August, the best spots for seeing puffins include The Brisons off St Just, The Mouls off Pentire Point, The Rumps near Padstow and Long Island near Boscastle.
Rare sighting
The rarest animal ever seen in Cornwall was the pine marten. In March 2015, the elusive creature was spotted for the first time in more than a century. It was believed to be extinct in Cornwall in the 1960s. It was filmed by a night-vision camera set up by student Jack Merritt, 18, near his home in Bude.
Initially, he thought it may be a polecat, but rare mammals expert Derek Gow recognised it as a pine marten. Gow described the find as "amazing". Although there are a few pine martens in Scotland and a handful in the far north of England, Gow believes someone may have released some from Scotland into the wilds of Cornwall. The remote scrub area of Bude is ideal for the species.
Since the initial sighting, wildlife experts from Exmoor National Park Authority's woodlands team confirmed there were two more possible sightings in the region.
Without doubt, Cornwall is one of the most beautiful places in the UK, and the great thing about wildlife-watching is that all the sites are within easy driving distance. Motorists should always heed the animal road signs – remember how important it is to respect wildlife in its natural habitat.
If you're planning a road trip along the Cornish coast, choose a modern motorhome from Driveline! Our fully equipped vehicles for hire are comfortable, reliable and great for a trip with family and friends.
Please contact us for further information.