Heavy Goods Vehicle MOT Testing
In January 2012 Driveline MOT Testing Station changed its' status to become an Approved Testing Facility (ATF). Back in June 2009, in a pioneering venture, Driveline was the first company in the UK to take over and manage what was an existing VOSA Test Station as a designated premises. We are proud to continue to be at the forefront of such business initiatives, and have since welcomed countless customers, both existing and new, through our doors.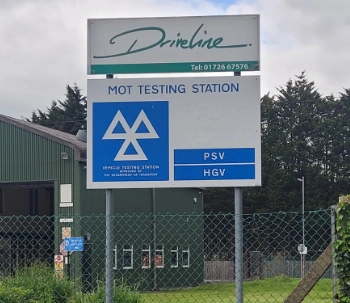 As we are now in a position to extend our product range to include the services below, it only serves to cement our position as a single-point solution for all your commercial vehicle requirements. We can now accept bookings for all your Test Station requirements, including:
We would welcome the opportunity to assist you with all your fleet requirements. To book your vehicle tests please call us on 01726 67576 and you can speak directly to our staff at the Test Station who will deal with your enquiry. Thank you to all our existing customers for their business and welcome to our future customers.
If you have any queries regarding the above or any of our services, please do not hesitate to contact us.
Please note that the MOT Testing Station is located at Par Moor Road, Par, Cornwall PL24 2SQ