Driveline can supply domestic and commercial wheeled bins in a wide range of colours and sizes.
We normally have, in stock, 140 ltr and 240 ltr bins in black, dark green and light green and they can be collected from our head office in St Austell or we can arrange delivery throughout Cornwall through a 3rd party.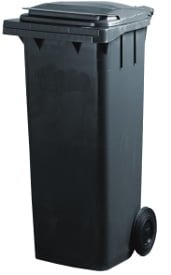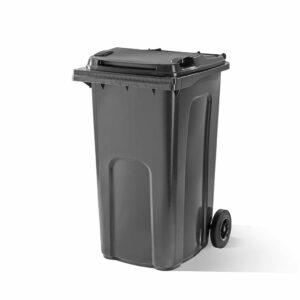 Should you have the requirement for any other sizes or colours, they may be available on special order, please enquire on 01726 829201.
Our products can be used with all standard collection and bin lifting systems such as DIN or AFNOR. They can also be used with current side loaders, front loaders and Mekam or MSTS systems without any problems.
| | | | | | | | | | |
| --- | --- | --- | --- | --- | --- | --- | --- | --- | --- |
| Rated volume (L) | 120 | 140 | 180 | 240 | 260 | 380 | 660 | 770 | 1100 |
| Dead weight (kg) | 10 | 11 | 13 | 14 | 16 | 19 | 40 | 43 | 50 |
| Max. admissible overall weight (kg) | 60 | 70 | 90 | 110 | 120 | 170 | 310 | 360 | 510 |
| Overall height (mm) | 935 | 1065 | 1070 | 1065 | 1070 | 1065 | 1213 | 1365 | 1354 |
| Overall width (mm) | 480 | 480 | 480 | 560 | 650 | 750 | 1373 | 1373 | 1373 |
| Overall depth (mm) | 560 | 560 | 745 | 735 | 680 | 805 | 780 | 776 | 1073 |
| Upper edge comb (mm) | 870 | 1000 | 1000 | 990 | 1000 | 1000 | 1088 | 1240 | 1206 |
| Wheel diameter (mm) | 200 | 200 | 200 | 200 | 200 | 300 | 200 | 200 | 300 |