Severe storms have been battering Britain for centuries, causing loss of life and damage to property and the landscape. While storms have hit the headlines plenty of times in the 21st century, nothing can compare to the devastating storm that occurred more than 400 years ago.
The year was 1607, when the Bristol Channel floods caused massive devastation and the deaths of more than 2,000 people. Storms in modern times can be tracked, thanks to high-tech equipment employed by the Met Office.
This means we have plenty of warning when severe weather conditions are about to strike, but back in the 17th century, without the benefits of modern technology, the local people would have had very little warning before disaster struck.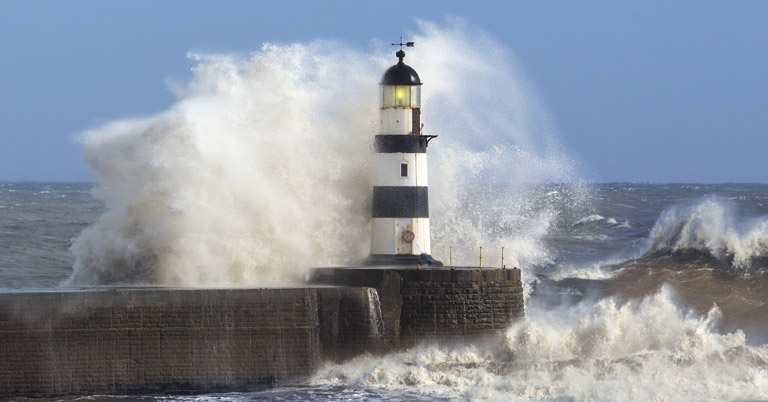 © mrallen / Adobe Stock
Was it a tsunami?
According to historic records, a sudden deluge of torrential rain, which began on 30th January 1607, led to widescale flooding of the Bristol Channel, resulting in more than 2,000 deaths from drowning. The flooding killed livestock and devastated farmland.
Common belief was that the floods were a result of a terrible storm, although in 2002, scientists Ted Bryant and Simon Haslett published their report suggesting that it had been a tsunami – a phenomenon not normally experienced in Britain.
However, their evidence was subsequently refuted by scientists at the Proudman Oceanographic Laboratory in Liverpool and the Department of Civil Engineering at the University of Bristol. Their report concluded the floods had been caused by a massive storm surge.
High tide
The Met Office says the area is particularly susceptible to flooding, as it suffers from prevailing storm winds and spring tidal heights of up to 12.2 metres – the second-highest level in the world.
Bryant and Haslett were accused of underestimating the significant volumes of water caused by a storm surge and the coastal damage that it would cause. Studying the flooding with the benefits of modern technology and knowledge, scientists said the surge was caused by westerly gales in the Bristol Channel.
These had raged continually for several hours prior to high tide. The unusual feature of the weather system was a jet-stream to the south of its normal seasonal position. This caused depressions to be steered much closer to southern Britain than is normally the case, causing the freak weather conditions of 1607.
Eddystone Lighthouse
Arguably the worst natural disaster to hit the UK was the storm that occurred almost a century later in 1703. Reportedly without any warning, a storm suddenly swept in from the south of England and battered the UK for a week.
It was so severe that it completely swept away Eddystone Lighthouse on Eddystone Rocks, nine miles south of Rame Head in Cornwall. As the storm continued to rage, it was reported that up to 15,000 people had died.
It became known as the Great Storm of 1703 and scientists said it was an extratropical cyclone. It struck southern England on 26th November and swept across the central part of the country over the next few days, with the extreme power of a category two hurricane.
In London, around 2,000 huge chimney stacks were destroyed, while the lead roofing was blown off many buildings, including Westminster Abbey. Around 700 ships were thrown together on the Thames by the gale force winds, 400 windmills were destroyed and 4,000 oak trees were uprooted in the New Forest.
Blizzard of 1891
Towards the end of the 19th century, disaster struck again in the shape of the Great Blizzard of 1891, which killed 200 people and 6,000 farm animals. It arrived on the coast of southern England on 9th March and raged on for four days, cutting Devon and Cornwall off from the rest of Britain.
Snowfall of up to 15ft high left communities cut off and violent gales blew trees over as the temperature dropped to below zero. Railways and roads were impassable and telephone and telegraph lines were destroyed. A merchant ship, the Bay of Panama, was driven on to rocks off the coast of Cornwall where she sank, killing 23 crew members.
20th century
Fast forward to 1953, when another horrific flood drowned 326 people. One of the greatest storm surges on record, the North Sea flood struck at the end of January. Around 30,000 people had to evacuate from their homes and the flooding seriously damaged 24,000 properties, while 160,000 hectares of eastern England were under water.
In 1987, television weather presenter Michael Fish famously refuted the idea that a hurricane was on its way to Britain. He was tragically proved wrong when it struck, killing 18 people and causing damage estimated at more than £1 billion.
Around 15 million trees were destroyed and thousands of homes were without electricity for many days. Roads and railways across the UK were blocked by wreckage and debris.
The Burns' Day storm of 1990 killed 47 people, when a hurricane struck southern Scotland on 25th and 26th January, causing widespread damage – cutting power supplies and blocking roads and railway lines.
21st century
There have been two major storms this century, the first occurring in October 2000, when the UK suffered as a result of the wettest autumn in 200 years. Five rivers burst their banks, winds of more than 90mph battered the country, some 10,000 homes and business were flooded and thousands more had no electricity. We were left with the aftermath of £1 billion worth of damage.
In 2013, Britain suffered the stormiest December since 1969, with gale force winds of up to 80mph sweeping the country. Gusts of more than 100mph were recorded in places, trees were uprooted, buildings were damaged and cars and power lines were destroyed. Much of the country was flooded and thousands of people had to be evacuated from their homes.
Worst time for storms
According to scientists, the most common time for gales to hit Britain, based on historical research, is around 24th and 25th March, beginning in northern and western districts. The last few days of March have had stormy weather in 37 out of 50 years, according to records.
Strong winds are caused by differences in atmospheric pressure. The air will move from a high pressure area to a lower one, resulting in winds of varying speeds, depending on the difference in pressure.
Storm safety
Thanks to modern technology, we at least know when a storm is approaching, so we can try to keep ourselves safe.
Before the storm begins, secure any loose items in your garden, such as furniture or ladders, park your car in the garage if possible (or at least keep it away from trees) and lock doors and windows.
In the home, if you have tall chimney stacks that are in poor condition, move beds away from them. Unplug unnecessary electrical devices in case of lightning.
During the storm, stay indoors if possible. If you have to go out to go to work, don't shelter under trees and keep away from fences and boundary walls.
If the storm becomes severe and you have to evacuate your home, keep your pets in secure animal carriers and only pack essential medication and special dietary foods, plus a little spare clothing. Turn off your mains electricity, gas and water supply if possible before you leave.
Don't drive unless you absolutely have to. Be aware of side winds on bridges, motorways and high open roads. High-sided vehicles shouldn't be driven, as they can blow over.
After the storm, check on any vulnerable relatives or neighbours, stay away from any walls or trees that have been weakened and report any property damage to your insurer.
A severe storm can just about destroy your garden, blowing down fence panels and garden sheds, wrecking bushes and plants and leaving a trail of debris, including rubbish that has blown in from the street and other people's gardens… something we are probably all struggling with now after the last few weeks of high winds!
When you tackle the big clean-up and remove storm debris from your garden, check out Driveline's van and truck hire services to help things go smoothly.
Hiring a van is the most cost-effective way to remove debris from your property and dispose of it at the tip. Please contact us for details of our competitive rates.