Hollywood legend Burt Reynolds starred in some of the most iconic films in history, such as the 1972 thriller, Deliverance, about a group of friends menaced by hillbillies during a holiday in the remote Georgia wilderness.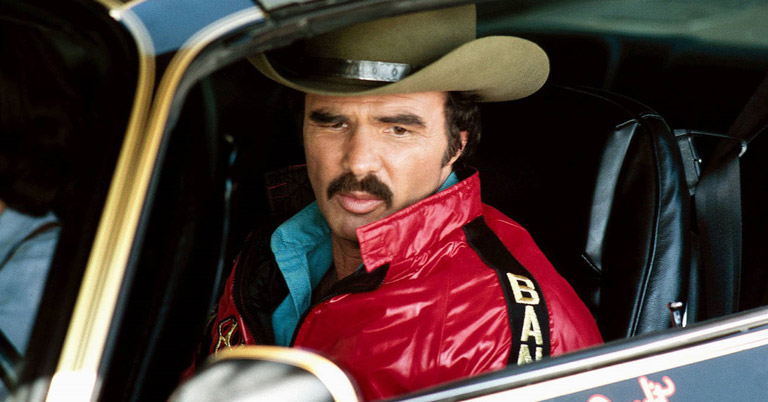 AF archive / Alamy Stock Photo
Hailed as one of the most significant films ever made, it was selected by the Library of Congress for preservation in the United States National Film Registry. The actor, who died at the age of 82 on 6th September following a heart attack, admitted he preferred playing for laughs for most of his career.
He will probably be best remembered for playing comedy roles in light-hearted action films, such as the trucking movie Smokey and the Bandit in 1977 and Cannonball Run in 1981.
In his 2015 memoir, But Enough About Me, Reynolds said he seldom took on "risky parts" or opened himself to new writers in his early career, because he was "interested in having a good time." However, in his later years, he realised he was missing out on opportunities to win serious roles and opened his mind to different projects.
Early life
Reynolds was born in Lansing, Michigan, on 11th February 1936. Moving to Riviera Beach, Florida, in 1946, when his father, a former military serviceman, became chief of police, Reynolds excelled at American football at school and won a football scholarship to Florida State University.
However, he ended his footballing career on leaving university and pursued a career in acting instead. He was inspired by Watson B Duncan III – an English teacher at Palm Beach Junior College, where Reynolds took classes in his spare time, while working as a parole officer.
He became famous after winning the role of Quint Asper in the long-running Western drama TV series, Gunsmoke, in 1962. Remaining with the series for three years, he became a much sought-after actor as a result.
Smokey and the Bandit
He used his television work as a springboard to make movies and after a string of low-budget films, his serious role in the horror-action thriller, Deliverance, made him a household name. It was the fun romp, Smokey and the Bandit, which fans remember as arguably the most enjoyable film Reynolds ever made.
Starring as trucker Bo "Bandit" Darville, who is enlisted by wealthy Texan Big Enos Burdette to bootleg Coors beer to Georgia (a dangerous road trip), the plot was loosely based on the true story of a genuine problem being faced by the makers of Coors beer.
The film was devised and directed by Reynolds's roommate, renowned stuntman Hal Needham, while working as the star's stunt double in the 1976 movie, Gator. A couple of cases of Coors beer were provided by the studio in Needham's hotel room, but he noticed the maid kept sneaking bottles from the fridge.
Needham had read a Time magazine article about Coors being unavailable east of the Mississippi River because it wasn't pasteurised and needed continual refrigeration. It wasn't sold legally outside of 11 US states. Needham thought bootlegging Coors would be a great movie plot.
Production
Needham presented his newly written script to Reynolds, who said he'd star in the film if Needham could get the money together to shoot it. Reynolds later admitted that many of his friends didn't like the script idea and begged him not to shoot it, thinking it would be detrimental to his blossoming career but he decided to go ahead anyway.
Initially, it was planned as a $1 million B-movie, but Reynold's inclusion turned it into a major production and it was soon being aimed at mainstream release. It was produced by Rastar and distributed by Universal Pictures.
Reynolds was one of the world's top box office stars and the budget was soon increased to $4.3 million – around $1 million of this was Reynold's salary!
Plot
The plot sees Darville, the "Bandit", played by Reynolds, agreeing to take the illegal haul of Coors on his truck run, in return for $80,000. He is asked to take 400 cases of beer from Texas to Atlanta in 28 hours, while evading the "Smokey" – a slang name for the police.
Bandit recruits his partner in crime, Cledus "Snowman" Snow, to drive the Kenworth W900 truck containing the beer, while he drives a "blocker" (a black Pontiac Trans Am truck) to act as a decoy.
Three Kenworth W900s were used as Snowman's truck in the film – one 1973 model and two 1974 models, although they were all painted brown with golden trim, so they appeared to be the same vehicle. The trailer was 48ft long and manufactured by Texas firm, Hobbs Trailers.
Casting
Sally Field was chosen for the role of a runaway bride called Carrie – nicknamed "Frog" by the Bandit because she's "always hoppin' around."
In an interview, she admitted she was surprised to be offered the role of Carrie because, in 1976, she had just finished a made-for-TV mini-series called Sybil and was hurt by the reviews. The series was critically-acclaimed, but she had been described as "ugly".
She was stunned when a "really big box office star" like Reynolds called her to ask if she'd consider the part. She described herself as feeling "flabbergasted", but decided to take the role, even though she claimed the script was fairly sparse and much of it was improvised on the set.
She described taking the role as a "leap of faith" which paid off. She said filming was a "journey" and a "good experience", with the movie turning out to be a "great fun romp."
Originally, the studio wanted to audition actor Richard Boone for the role of Sheriff Buford T Justice, who chases the Bandit throughout the movie, but as the major star, Reynolds had the final say. He wanted someone "a lot funnier" and "a little crazier", so Jackie Gleason got the part.
Truck chases
Smokey and the Bandit is famous for its awesome truck chases, with the Bandit's articulated trucks attracting increasing amounts of attention from local and state police en route – not least because it turns out Frog's jilted husband-to-be is Sheriff Justice's slow-witted son!
Justice and his son ignore state jurisdiction and chase the Bandit and Frog all the way to Georgia. Bandit and the Snowman, played by Jerry Reed, thunder on towards their destination, attracting more truckers, who communicate via their CB radio to help the duo on their way by continually outwitting the police.
The state police become increasingly desperate to stop the Bandit and Snowman, but even roadblocks, police helicopters and plenty of chasing cars can't stop the duo from continuing on their way.
Theme song
Reed wrote the film's theme song, East Bound and Down, almost overnight. Needham loved it and said he didn't want one word changing, because it was ideal. It was one of Reed's biggest hits as a result of the film and became his signature song for the rest of his career.
Filming took place on the Georgia State Route, around Helen in Georgia, in Ojai, California, in the cities of Jonesboro, McDonough and Lithonia and along Highway 54 near Fayetteville, where most of the driving scenes were filmed.
The outfits were specially provided by Niver Western Wear, based in Fort Worth, Texas, including the custom-made sheriff's uniform worn by Gleason, which had 64-inch waist trousers!
Worldwide hit
Smokey and the Bandit unexpectedly turned into Reynold's most enduring, timeless film, transformed from a planned low-budget B-movie into the massive box office hit.
The wise-cracking, confident Bandit was the type of light-hearted role the star loved playing during his early career. The film cemented his position as one of Hollywood's biggest box office draws and an A-list star who was in great demand for the remainder of his career.
He was still taking new acting roles up until his death at a Florida hospital. He had signed up to star in Quentin Tarantino's latest film, Once Upon a Time in Hollywood, in May 2018, but sadly he died before his scenes had been shot.
Driveline
The Driveline MOT Testing Station is an Approved Testing Facility for heavy goods vehicles. We offer a single-point solution for all your commercial vehicle requirements. Please contact us for further details of our services.