The Duke and Duchess of Sussex, Prince Harry and Meghan Markle, are planning to move house before the birth of their first child. The couple, who married in May 2018 at Windsor Castle in Berkshire, are expecting the baby in the spring.
Although an official press release in October 2018 announced the pregnancy, an official date for the arrival of the newest royal wasn't revealed, but according to press reports on 14th January, Meghan has apparently told royal fans gathered in Hamilton Square, Birkenhead, that her baby is due in late April.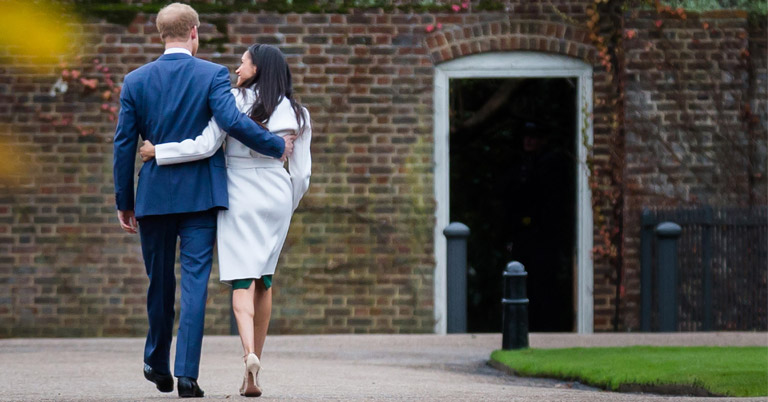 © Chris Aubrey / Alamy Stock Photo
The ensuing media frenzy suggests the "countdown has begun" to the most eagerly anticipated royal event since the popular couple married around eight months ago, following a two-year courtship which began in summer 2016.
The royal nuptials led to a £107 million boost in spending in the UK as the feel-good factor kicked in, while Parliament agreed to extend pubs' opening hours on the eve of the ceremony and on the day so people could celebrate in style.
Street parties were held across the UK and celebrations took place overseas, particularly in the US, where some hotels beamed the ceremony live on to giant TV screens for guests.
It's no surprise that the media interest of one of the most popular royal couples in history has continued throughout the first year of their marriage, with the Duke and Duchess of Sussex seldom out of the public eye.
Royal residence
Since their wedding, they have been living in the Kensington estate's two-bedroom Nottingham Cottage, but it has been reported that they are to move into their new home of Frogmore Cottage on the royal estate in preparation for their baby's birth.
After the couple's wedding at Windsor Castle, they hosted a reception for 200 guests at Frogmore House, which sits overlooked by Frogmore Cottage. It was reported that the Queen had given Frogmore Cottage to Prince Harry and Meghan as their new marital residence.
A Grade II listed building, the cottage was built in 1801 (in the grounds of Frogmore House) under the instructions of Queen Charlotte, wife of King George III. It was reportedly built at a modest cost of £450, according to the queen's accounts for 1801, which equates to just £35,800 in today's money.
Previous residents
Queen Charlotte and her daughters spent much of their leisure time at Frogmore Cottage. In the 1840s, the theologist Henry James Snr and his family lived there.
According to reports, the cottage received its name due to the number of frogs in the grounds! Queen Victoria had apparently dined at the cottage in June 1875 and during breakfast commented on the "immense number" of little frogs. She called them "quite disgusting."
Queen Victoria's personal servant, Abdul Karim, his wife and his father lived there from 1887 when he moved to England. In the 1920s, Grand Duchess Xenia Alexandrovna of Russia took up residence while in exile from her native land. It later became housing for employees of Kensington estate and in October 1975, it officially became a grade II listed building on the National Heritage List for England.
Major refurbishment
The cottage had been converted into five separate units, but a heavy restoration has been taking place to convert it back to a single home in readiness for the arrival of the Duke and Duchess of Sussex. The couple are reportedly having extensive renovations carried out in readiness for their arrival.
Media reports suggest the building work will convert the cottage into a family house at a cost of some £3 million. The renovations will include a new yoga studio, a "Gone With The Wind-style" double staircase and new fireplaces in all the main rooms. In addition, Fort Knox-style security will be installed to protect the royal residents.
Like any other couple who are planning to move to a new house, the Duke and Duchess will be preparing by having their personal possessions carefully packaged up in order to transport them the relatively short distance from Nottingham Cottage. It is reportedly a 30-minute walk between Frogmore and Nottingham cottages, so it won't be a massive journey for the removal vans!
Moving house
When anyone moves home, it's important that their personal items arrive at their new abode in one piece!
For a more efficient and convenient way of transporting your furniture and other possessions to your new home, check out Driveline's van and truck hire services… you'll be glad you did.
We wish you every happiness in your new home!