With a distinct autumnal chill in the air and the first Christmas displays appearing in the major supermarkets, it's time to start thinking in earnest about the festive season. If you're a business owner, you'll be preparing for the busiest time of year.
For many retailers, the festive period can salvage what may have been a slow year, particularly as the economic climate in the UK has been turgid at times, as a result of the Brexit aftermath uncertainty rumbling on.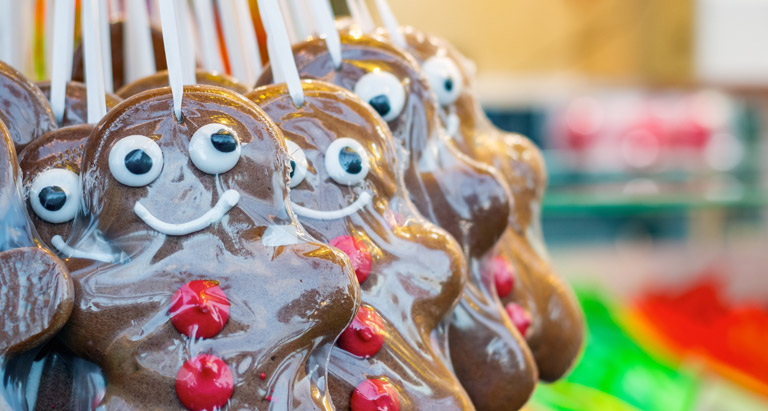 © I-Wei Huang / Adobe Stock
Beat online stores
When you're a high street retailer already struggling with overheads, competing with your online rivals is a must. According to research by Statista, 30% of consumers are doing their Christmas shopping online. So how can you get the edge over online stores, who can sell items at the click of a mouse?
The answer is simple – put yourself out there and set up a stall at some Christmas markets. People love soaking up the atmosphere, enjoying some festive fare, buying some bargain gifts and generally getting into the spirit of things.
Christmas market benefits
Research by the Local Government Association suggests the key benefits of Christmas markets include generating extra income, attracting more visitors and creating temporary jobs.
They also create trade for the permanent retailers and produce a net gain for the local economy. The findings – from eight case studies of UK Christmas markets – indicate that if run effectively, they can significantly boost the local economy.
Success stories
The LGA studied Christmas markets in various towns and found trade massively increased. The biggest benefits were felt in Newcastle, where trade was up by 72%, and St Albans, where it increased by 67%. In addition, people visiting the Christmas market nearly all made additional purchases elsewhere in the town centre.
Christmas markets also attract a wider demographic than the usual UK markets, as they are seen as something special. Rather than being simply just a shopping trip, they are seen as a leisure activity, offering high-quality goods, fun, a chance to socialise and some festive cheer.
Popular items
Hit as many local markets as possible. Different items can be sold at Christmas markets. As well as the traditional gift items, tree decorations, candles, festive foods and other staples of Christmas, arts and crafts always go down well.
So do toiletries such as skin, body and haircare products, especially those made from natural and organic ingredients. Other best-sellers include children's toys, antique and flea market-type items, meats, dairy products, jams, chutneys, sweets, seasonal cakes and biscuits, unusual garments, hand-crafted accessories, watches and timepieces, ornaments and many more.
Tips for success
Reliable transport is essential. Try a self-drive hire van. Booking one at an affordable price won't cut into your profits too much and it will ensure you and your goods get there in one piece!
Try to organise a method of accepting card payments. In bygone times, a market meant cash payments only and the stall holders keeping the money in a purse-bag around their waist. In our now more sophisticated times, don't leave yourself at a disadvantage to your more tech-savvy competitors – make sure your customers can pay by card.
When setting up your stall, make it look festive. Don't go overboard, but try subtle and tasteful Christmas decorations, such as using natural products to decorate around your goods. Try garlands, pinecones and a little artificial snow. Too much glitter and tinsel could start to look tacky.
Take extra products and keep them in your van, or under the counter, so that you don't end up with empty spots on your stall if some items are particularly good sellers. Rotate the stock throughout the day, so it doesn't end up looking tired.
Try to keep your prices competitive – don't price your wares so low that you end up not even making a profit, but don't price yourself out of the market either. People like to pick up bargains at a Christmas market.
Cornwall's festive markets
There are plenty of Christmas markets taking place in and around Cornwall this year. With live music, festive foods and more than 50 stalls, Charlestown Christmas market was launched last year. The event is back this year, taking place at The Sports Hall, Penrice Academy, near the harbour, on 23rd and 24th November, from 11am to 4pm.
Padstow Christmas Festival has a reputation for selling a mouth-watering range of festive foods, including artisan breads, cakes, cheeses, chocolates, preserves, meats and pickles. There are also craft beers, ciders and locally-produced rum, gin, vodka and brandy. From the 5th to 8th December, stalls will be at various sites around Padstow, while the market will be in the main marquee
Fowey Christmas Market is one of the most popular markets in the region, regularly attracting up to 10,000 visitors each year. Attracting around 200 traders, an abundance of locally produced food, drinks and Christmas gifts are displayed across Fowey Town Quay, Webb Street and Albert Quay. It will take place this year from 6th to 8th December.
Country Christmas
A Country House Christmas at Trevince House in Gwennap is a market not to be missed. From 29th November to 8th December, you can enjoy a unique shopping experience with festive gifts, a food hall, hot chestnuts and music.
The Macmillan Christmas Fair at The Eden Project, in Bodelva, features a visit from Father Christmas, plenty of gifts and home accessories, jewellery, clothing and food. It takes place on 13th and 14th November.
Heligan Christmas Fair offers unique food and drink, arts and crafts, jewellery, ceramics and more. This year, visitors will be invited to enjoy a glass of mulled wine and other seasonal treats from 6th to 8th December.
Mount Edgecumbe Christmas Fayre takes place on 7th and 8th December near Torpoint, with attractions including floral displays courtesy of Duchy College and cooking demonstrations, as well as local produce, gifts and crafts.
Made in Cornwall
The Made in Cornwall Christmas Fair will return to Truro's Lemon Quay from 27th November to 1st December. More than 80 traders, who have the famous Made in Cornwall status, will lay out their wares. Their goods have been officially certified by Trading Standards as having been made in Cornwall.
Porthleven Christmas Market, at Porthleven Harbour, is back for 2019. It promises to be bigger and better than ever! A marquee will host a wide variety of stalls, which will all have special Christmas wares for that unique gift. There will be an indoor bar, hot and cold food and live music throughout the event, on 16th and 17th November.
Don't miss out this Christmas – prepare now for the many Christmas markets and make your festive period a successful one!
For reliable, comfortable and affordable transport, Driveline provides self-drive van and truck rental services that will ensure you arrive to market in style – you'll certainly make a great first impression!
Please contact us for further details.