Celebrity gardener Percy Thrower always saw himself as a gardener first and a television presenter second. Even when he achieved superstar status as host of the long-running BBC show, Gardeners' World, he admitted nothing could ever compare with the joy he felt when gardening.
He was described as "bringing passion to the potting shed" as a result of his infectious enthusiasm for his trade, which he began learning when he was only 14 years old. After successfully honing his green-fingered skills in a number of horticultural jobs, he spent around four decades as a radio and TV presenter.
After a career in the spotlight, he retired to quietly run a garden centre, where he sat happily behind the counter, giving customers gardening tips, until his death, aged 75, on 18th March 1988.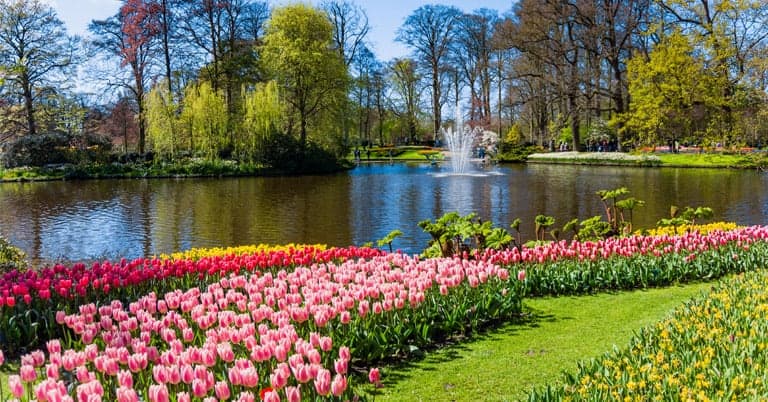 © EwaStudio / Adobe Stock
Where it all began
It was almost inevitable that Percy would become a gardener – his father, Harry, was head gardener at the country retreat of the wealthy Denny family, Horwood House, in Little Horwood, Buckinghamshire. Harry and his wife, Beatrice, lived at the estate, which had a large apple orchard.
Percy was born there on 30th January 1913 and grew up watching his father tending the extensive grounds. In 1927, when he was 14, Percy was taken on as apprentice gardener. Trained by Harry, the youth was a quick learner and soon proved he was green-fingered. At age 18, he successfully applied for the position of gardener at Windsor Castle.
In 1935, he took a gardening job with the City of Leeds Parks Department, studying for his Royal Horticultural Society general examination at college at the same time. He was a supporter of the Dig For Victory campaign during the second world war, leading the local effort.
After the war, in 1945, he took a new job as parks superintendent in Shrewsbury, where he looked after Quarry Park, which had fallen into a state of disrepair before his time. He restored it to pristine condition, turning a neglected area called The Dingle into a beautiful public garden.
Broadcasting career
In 1947, a visitor arrived at Quarry Lodge, at the entrance to the park, asking who had been maintaining The Dingle. Percy introduced himself to the visitor, who turned out to be the radio show host, Godfrey Baseley. He presented a programme, called Beyond the Back Door, every Sunday afternoon.
Percy was offered a weekly ten-minute slot on the show to chat about gardening. It became apparent he had a natural aptitude for radio work and his role in the programme grew. Once a month, he would visit someone's garden and chat about it live on air.
As a result, the show was renamed In Your Garden and became hugely popular, running until 1951, when it was superseded by television.
Gardening on TV
Percy's successful radio show led to the launch of his career as the first celebrity gardener. He made his TV debut on the BBC show, Picture Page, in 1951 – a documentary about how he had been commissioned to design a garden in Berlin, Germany.
His natural and down-to-earth manner endeared him to viewers, as he didn't talk down to people and chatted as if he was speaking to friends.
His best-remembered show is Gardeners' World, the BBC series which celebrated its 50th anniversary in 2018. Percy was the presenter between 1969 and 1976. He created his now legendary image of smoking his pipe, while wearing his trademark waistcoat and tie and chatting about gardening.
Percy was also a regular on the children's television programme, Blue Peter, from 1974 to 1987. He created the famous Blue Peter Garden and invited other celebrities to cultivate it with him every week at the BBC television centre. The small sunken garden had a fishpond and was adorned with ornaments that viewers had sent in.
Modern celebrity gardener Alan Titchmarsh said he was inspired to start gardening after watching Percy on TV.
Percy remained a key figure in the local community, despite his broadcasting career, as he was horticultural adviser of Shrewsbury Flower Show for 40 years and later became chairman.
He also wrote 21 gardening books, all of which were best-sellers. He made his writing debut with Percy Thrower's Encyclopedia of Gardening in 1962 and his final book was Gardening Month by Month in 1980. They still sell many copies online today.
Garden centre
After retiring as a TV gardener, Percy continued to write horticultural books, while branching out into a new venture by launching his own garden centre, on Thrower Road, Shrewsbury.
He liked nothing better than to sit behind the counter chatting with customers, giving them gardening advice. He always remained approachable and never let fame go to his head. In an interview on Radio Shropshire, he said he believed this was why he was so successful.
Percy won many Royal Horticultural Society awards. In 1984, he received an MBE. He inspired generations of people to take up gardening and has left a huge legacy, not only with his television programmes and the gardens he has created, but also in the shape of modern-day gardeners, such as Alan Titchmarsh.
Spring gardens
Now that spring is here, it's time to start completing seasonal jobs around the garden, to ensure that it's blooming beautiful by the summer!
The major jobs for spring include sowing the seeds of plants such as begonias, antirrhinums and geraniums and vegetables such as aubergines and peppers, starting them off in a heated propagator if the weather is a little chilly.
Your lawn is likely to be looking a bit tired after winter, so plant new seeds over any dead patches and also add a high-nitrogen fertiliser. Start your lawn-mowing with a high cut of dry grass. During April, your mowing frequency should increase as the weather gets warmer and the grass grows faster.
Spring is the time to deadhead your flowers, tidy up evergreen perennials and treat any diseases or pest infestations. Do the weeding and cut back any plants or bushes that are looking tatty in general and still have last year's dead leaves attached.
Start your compost heap, providing a place to put organic waste, which will soon create a rich compost for your plants. Although not many of us have the green fingers of Percy Thrower, practice makes perfect and it gives us a sense of achievement to create a beautiful garden.
If you're looking to transport garden waste to the tip after your first big gardening blitz of the year, check out Driveline's van and truck hire services to help things go smoothly. Hiring a van is also a great way to go to the garden centre to pick up your larger items!
Please contact us for details of our affordable van hire.