If you're looking for a different type of holiday this year, a motorhome could be just the ticket. Hitting the road in a luxurious motorhome gives you the freedom to travel where you choose, safe in the knowledge you have somewhere comfy to stay, without spending a fortune.
If you're a beginner when it comes to life on the open road, knowing what to expect can make all the difference: make sure your lack of knowledge doesn't get in the way of having a great time. As well as the all-important task of planning where you're going on holiday, you must also familiarise yourself with the practical task of driving a motorhome.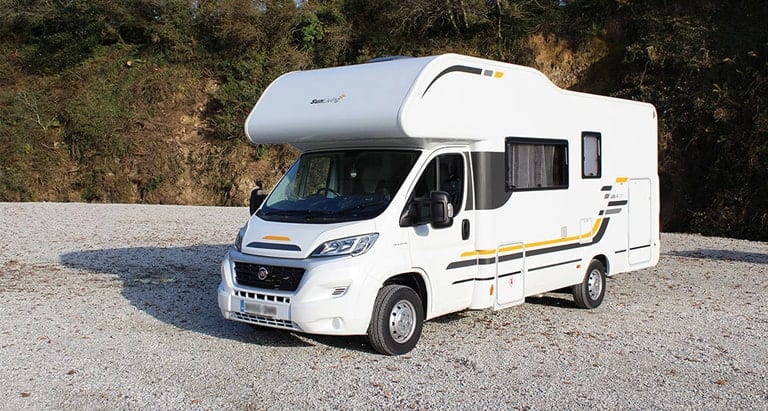 The good news is you don't need to take any kind of special lessons, even if you've never driven one before. As long as you have an appropriate full driving licence, you're ready to go: if the vehicle's weight (including the maximum load it can carry) is between 3.5 tonnes and 7.5 tonnes, a category C1 licence is required; more than 7.5 tonnes will require a category C licence. You can view your own driving licence information online via the gov.uk website if you're in any doubt.
Here is our beginners guide to driving a motorhome – well, you want to make the most of your break, don't you?
What should you take?
People often take far too much stuff – items they think they MIGHT need. You really don't need everything you think you do. Make sure you're properly equipped for the trip by preparing for the relevant number of people.
Unless you're planning on baking or cooking every day, there's no need to take all your pots and pans and a pile of baking trays. Why take an iron and ironing board if you're going to be in casual or beachwear much of the time? You don't want to spend your holiday ironing shirts. A Driveline motorhome comes fully equipped with everything you'll need, including a kitchen sink!
Be prepared for changes
Although a motorhome is a "home from home" in terms of comfort, the idea is NOT to live exactly the same as you do normally. After all, this would defeat the purpose of taking a holiday.
In a motorhome, you'll spend time together with your family and friends. Try to do activities that will bring everyone together, encouraging socialising and talking. Many seasoned travellers go back to their roots and take board games with them.
Never try to replicate your home life, as it's more fun to try other things – if you're looking to do what you normally do, you may as well stay at home!
Where will you sleep?
The world's your oyster when you have a motorhome. You can travel just about anywhere, either in Britain or abroad, as long as you have the right paperwork. You can choose from staying on an official campsite for a nightly fee, or trying out what's known as "wild camping". This means stopping for the night, free of charge, in a relatively remote area of the countryside.
While campsites will often have facilities such as toilet blocks, showers and a shop, when you stop off the beaten track, you'll need to be self-sufficient. Make sure you take enough food, hot and cold beverages, bottled water, toiletries and anything else that will make you comfortable.
For some people, setting off and not being sure where they'll end up for the night is part of the excitement. You can travel to remote destinations and do your own thing! The beauty of a motorhome holiday is that you're your own boss.
Hiring v purchasing
It's advisable to rent a motorhome before you buy. Although this takes money out of your kitty if you're saving to buy one, it also gives you an idea of what to expect, what will work for you and what won't. A motorhome is a BIG purchase!
You can get a better idea of size, sleeping arrangements, dining areas and other amenities. You might think a particular motorhome will be great for three people – but once you've bought it, you may realise it's too small, or the sleeping areas aren't arranged as you'd like them.
Unless you're planning to do a lot of travelling, it may be more cost-effective to stick to renting, especially if you're going away only once or twice a year. You won't need to worry about vehicle maintenance for one thing!
Rental vehicles are always in tip-top condition, mechanically and aesthetically. The most important thing is having a safe vehicle and a rented one will be professionally maintained and serviced. Driveline's modern motorhomes are beautifully maintained, assuring a truly comfortable and convenient way to enjoy your new-found freedom!
Driveline – providing everything you need
With every Driveline motorhome hire you will receive a welcome pack of essentials such as bin bags, washing-up liquid, hand-soap and more. Our motorhomes also include a fridge-freezer, microwave, oven and grill, kettle, TV and DVD player, CD player, sat-nav covering Europe, picnic table and chairs, a bike rack and much more – did we mention the kitchen sink!?
It's a beautiful world, so go out and explore it!