The famous Glastonbury Festival 2019 is due to take place at its usual venue, from Wednesday 26th June until Sunday 30th June, with this year's headline acts including The Cure, The Killers, Stormzy, Kylie Minogue and Janet Jackson.
Around 175,000 people are expected to attend Glastonbury, which is the largest greenfield festival in the world. It is usually held every year and has been taking place since 1970. However, there was no festival in 2018, as the organisers decided to give the land a rest. Worthy Farm is a working dairy farm and Glastonbury 2017 took its toll.
It will be back bigger and better than ever before this year, with an environmentally-friendly ethos. Plastic bottles won't be sold on site and charity WaterAid will be providing kiosks where revellers can refill their own water bottles, in a bid to cut down on waste.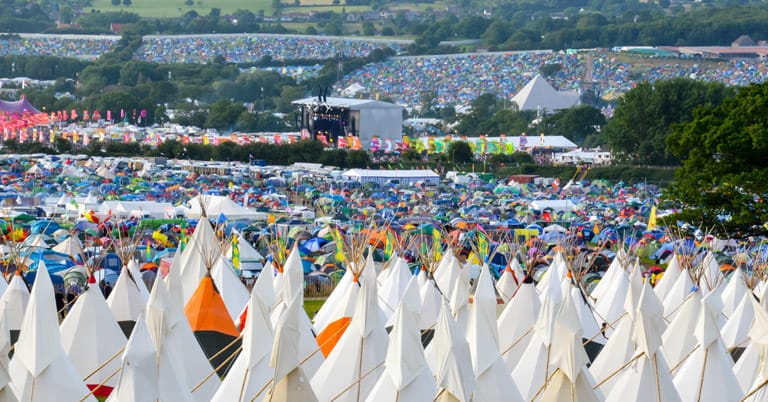 © David / Adobe Stock
First festival
The festival has grown massively since the first event, which began on 19th September 1970. Organiser, Michael Eavis, was inspired to host his own event by the blues festival taking place at Bath and West Showground.
The acts at the first festival included Marc Bolan, Al Stewart and Quintessence, at an event that was so much smaller in its infancy – it lasted for two days and around 1,500 people attended. Tickets were only £1, and festivalgoers received free milk fresh from the farm!
The following year, Glastonbury changed dates to coincide with the summer solstice. It had already grown significantly, with 12,000 people now attending. Entry was free and the headline acts included Hawkwind, David Bowie, Fairport Convention and Joan Baez. A film crew captured the event for a documentary called Glastonbury Fayre.
By the end of the 1980s, the festival had grown beyond recognition. An estimated 65,000 people watched the likes of Van Morrison, Elvis Costello, The Wonderstuff and Suzanne Vega in 1989. Due to the size of the event, the police were brought in to help with the planning for the first time.
New millennium
In 2000, a 1,000ft-high, silver pyramid-style stage took pride of place as 100,000 festivalgoers danced to David Bowie, Moby, Basement Jaxx and Travis. A new outdoor dance venue was launched among trees and was christened The Glade. Donations were made to Greenpeace, Water Aid and Oxfam from the proceeds.
The latest festival to date, in 2017, was headlined by Ed Sheeran, Foo Fighters and Radiohead. Former Manchester United and Real Madrid football legend, David Beckham, was one of the celebrity visitors that year.
Among the hundreds of artists booked for the 2019 event are Liam Gallagher, Sheryl Crow, Miley Cyrus, The Proclaimers, The Chemical Brothers, Johnny Marr, Hawkwind, Marti Pellow, Bananarama, Fatboy Slim, Carl Cox and a multitude more, with music to suit every taste.
Main attractions
Described as a "huge tented city" that springs up like the mythical village of Brigadoon, the different areas include the Pyramid and Silver Hayes (described as "London's West End moved to a field", where "everyone's on the guest list") and the more chilled out West Holts and Acoustic areas.
There are also family-oriented areas such as Kidzfield, and quieter places such as the Tipi Field, the Field of Avalon and the Green Fields.
With plenty of food to suit all tastes, people can wander freely around the beautiful 900-acre site, which is steeped in tradition and heritage.
Useful tips
If you're a newcomer going to a festival for the first time, seasoned revellers have plenty of tips to help the event go smoothly. Don't take a super-expensive phone with you, as there's a good chance it might get damaged or lost. Invest in a USB battery charger, or the more expensive solar power charger, to avoid queuing up with thousands of other people at a power point.
Partying all day and night can leave you exhausted, so make sure you eat at least one main meal a day, containing plenty of carbs, before heading off for a long session watching the bands. Keep a stash of cereal bars in your rucksack, as they are a cheap way of giving yourself a boost.
Make sure you take enough clothes to allow for the weather to be less than perfect. No-one wants to be sitting around feeling cold and wet, as it can ruin your enjoyment of the event. Make sure you leave some clean, dry clothes to drive home in after the festival.
Motorhome hire
Although a lot of people choose to camp at Glastonbury and take a tent, it can be far better to have a warm and cosy base, such as a motorhome, particularly in wet weather. There have been times in the past when people have pitched their tents, only to find them under water the next morning!
Don't take the risk of your accommodation being a wash-out. Driveline's motorhome festival hire can help you to enjoy the perfect break.
If you club together with your mates, it can work out as a cost-effective, comfortable and convenient way to travel, providing you with a secure and dry base, with plenty of home comforts.
Please book now, as we can get very busy at this time of year!