With Christmas just around the corner, it's time to start thinking about choosing your Christmas tree. As the focal point of the festive season, while some people prefer the artificial trees you can pick up at supermarkets, many householders enjoy the pleasure of having a real Christmas tree.
When shoppers are faced with the choice of celebrating with a fresh spruce, or one that's made of aluminium or plastic, it's all down to personal taste, but nothing can compare to the natural and fresh smell of the pine tree in the centre of your living area, with decorated boughs providing a pretty canopy for the Christmas gifts below.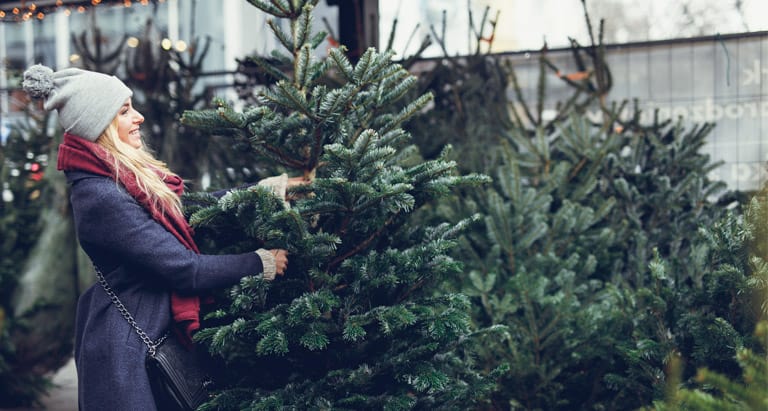 © shipskyy / Adobe Stock
Benefits of a real tree
What many people don't realise is that a real tree is the best choice for the environment. While they are growing, they absorb harmful gases such as carbon dioxide and emit oxygen. Farms that grow Christmas trees stabilise the soil and provide refuge for wildlife.
Sensible management means that as the mature trees are cut down, new ones are planted, so there's a continual cycle of tree-planting, rather than leaving the landscape bereft. Most farmers who grow Christmas trees will plant between one and three new ones for every one they harvest.
Sites where trees are grown provide a green belt that improves the landscape, both environmentally and aesthetically. Real trees can also be recycled after the festive season. Many local councils run specific schemes to recycle the biodegradable trees.
Artificial trees are very rarely recyclable. Surveys show that the average family uses an artificial tree for around six years, before throwing it away. Many of them are made from petroleum-based products and the likelihood is that they will remain in a landfill site for centuries after they have been thrown out.
If you've decided on the real McCoy, there are plenty of places around Cornwall where you can pick up a beautiful tree. Half the fun is actually finding and choosing your ideal centrepiece, before taking it home to begin the decorations.
Cedar Croft Nurseries
Located near the village of St Tudy, Cedar Croft Nurseries provides an interactive shopping experience. Shoppers are invited to walk along the Christmas tree nursery trail before choosing their own unique tree from the thousands available and attaching a ribbon to reserve it.
Several species are available, including traditional Norway firs, fragrant Noble firs, dense Fraser firs and more. All of the trees are available in many sizes, the tallest being more than 15ft – ideal if you want a Christmas tree in the garden.
The Norway spruce was the species of Christmas tree that Prince Albert brought to Windsor Castle in 1841. As the first-ever Christmas tree at the royal residence, it made popular the idea of decorating a tree to celebrate the festive season. The Norway spruce remains a traditional favourite today.
Goonhavern Garden Centre
Situated outside the village of Goonhavern, this garden centre provides a large selection of real Christmas trees, including the particularly bushy Frasier and Nordmann varieties.
As well as having a great selection of trees, Goonhavern also stocks a large selection of related trinkets and accessories. This makes it an ideal one-stop-shop for all your festive decorations.
Healey's Cyder Farm
This locally-renowned farm, near Penhallow, is famous for its award-winning cider, wines and spirits. What visitors may not realise is that Healey's Cyder Farm is also a great place to buy a Nordmann Christmas tree.
Visitors can round off their visit with a browse around the Christmas market, enjoy a festive roast and listen to the sounds of the choir, creating the complete Christmas experience.
Cornish Garden Nurseries
This family-run nursery and garden centre is located near Truro and is popular all-year-round among gardening enthusiasts. As well as its selection of fruit trees, shrubs and plants, the garden centre has a huge selection of Christmas trees of all sizes.
Customers can call in at the Olive Grove Tea Room for afternoon tea to round off the day. Both nursery and tearoom are dog friendly.
Trevena Cross Garden Centre, Helston
Trevena Cross boasts a 32-acre nursery and stocks Christmas trees of every available species. The trees are very well looked after and nurtured, long before they become the focal point of your lounge.
The garden centre also stocks a large selection of festive decorations and is renowned as having a range that rivals London's Selfridge's in terms of quality – but at much lower prices!
Newquay Garden Centre, Newquay
Newquay Garden Centre offers the complete festive experience. It stocks many species of Christmas tree, including Nordmann firs, Picea pines and Lodge Poll pines, which are renowned for their fragrance and classic festive appearance.
Santa Claus will have his grotto here every weekend in December, while festive refreshments are available at the Café Quint.
Trevisker Garden Centre, Padstow
Located near the picturesque harbour town of Padstow, Trevisker Garden Centre has an environmentally aware ethos. Water is sourced from a borehole, while the electricity is provided by the site's solar panels.
The Christmas trees are of a very high quality and are all sourced from local growers, including independent gardening enthusiasts.
Transporting your tree
It's a good idea to take a tape measure with you when you go to buy your Christmas tree, to make sure it isn't too big for your vehicle. If you want a large tree, it's probably best to hire a van to make sure you can transport it safely. You don't want to have to compromise and buy a smaller tree because your car isn't big enough, and it won't do the tree any good if you try and squeeze it into a confined space – you may snap some of the branches, or knock the pine needles off.
Wear gloves when handling the tree to avoid pricking yourself with the pine needles. Give it a good shake to remove loose pine needles and then wrap a blanket around it to stop the remainder from littering your vehicle's interior. Secure it in place with ropes before setting off.
Caring for your tree
The secret to keeping the tree healthy is to keep the base of the trunk wet, once it's erected at your home. Christmas trees can be very thirsty and it's a good idea to water it every day. Keep the tree in a cool place and never put it near radiators or fires, as it will start to wilt more quickly.
For safety reasons, always turn off the tree lights before you go to bed to avoid fire risks. After the festive season is over, many local councils have Christmas tree recycling schemes, so check online to find out how to dispose of your tree responsibly.
Driveline provides safe, reliable and comfortable van and truck hire solutions – so you can get that perfect tree home in one piece!