Spring is the perfect time to start redesigning your garden in preparation for the summer. It's important to start planning your vision early so that when the warm weather arrives, you'll be able to sit back and enjoy the fruits of your labour.
While we all have different ideas on what constitutes a beautiful garden, there are some basics which we should all follow. For example, most gardens benefit from a mixture of soft and hard landscaping, whatever the style.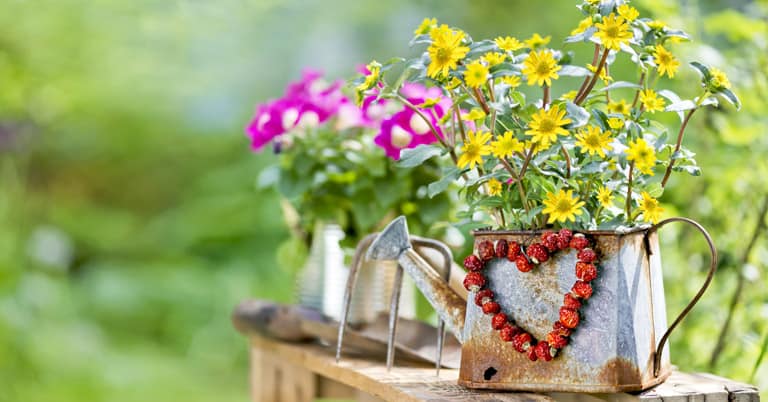 © Claudia Paulussen / Adobe Stock
Gardening trends
According to the Society of Garden Designers, the current gardening trends for 2019 include more ecological designs to cope with the UK's increasingly extreme weather conditions.
Experts advise planting appropriately for the conditions of the garden, such as plants that will store excess water and dissipate it through the soil.
Modern planting schemes are becoming increasingly drought-resistant. Householders are less inclined to include state-of-the-art irrigation systems, as they don't find them environmentally responsible. The modern trend is to have more plants that can fend for themselves.
Wildflower meadows
In 2018, lots of designers were creating gardens with wildflower and perennial meadows – a trend that looks set to continue into 2019. You don't need a massive garden to incorporate the style, as it can be just as effective with small and medium-sized plots.
A perennial meadow can take a few years to mature to achieve the full effect, but it's well worth the wait. It will require little maintenance and will provide colour from April to late November.
Waste removal
The first step to the perfect garden is to clear the old plants and other garden waste that has probably been sitting there since last autumn. Be ruthless when you cut back your garden. Nothing looks worse than tatty old plants that haven't been cut for six months.
If you have any other waste, such as old plant pots, compost bags, or tatty garden furniture, throw this out too. You can't make your garden perfect if aspects of it are past their best.
Once you've got all the waste bagged up, take it to the tip so that your garden is like a blank canvas.
Garden design
Designing your garden is an exciting prospect. First, you need to decide what you're hoping to achieve. Maybe you want somewhere to sit and relax or entertain friends, or perhaps you need more space for the kids to play. You might simply be bored with your current garden layout and fancy a change.
A great place to start, once you've decided on the style you require, is the garden centre. Whether you're looking for plants, paving slabs, fencing or edging for the borders, it's all under one roof.
All the best landscaping ideas start with good research, and spending an afternoon at the garden centre can provide you with inspiration. Take into account your garden size and think about exactly what you need.
Key elements
The key features you need to consider are the walls and boundaries, hedges and fences, paths and patios, lawns, water features, trees, shrubs and plants.
Take into account your budget and your garden's layout. It might help you to draw some sketches of your ideas, so you can work out where everything will go.
When planning hard landscaping, select your materials with care. Among the popular landscaping materials are bricks, timber, decking, paving, concrete, mortar and render, exterior paints and finishes.
Outdoor therapy
Once you have everything you need, the fun can begin! Landscaping is the ideal way to create your dream space – and it can also be a therapeutic experience working outdoors, turning your vision into a reality.
Any changes that you make can be little or big, depending on your aspirations. If you're doing the job yourself, there are plenty of online guides to help with some ideas.
Most of the building materials can be purchased from garden centres or builders' merchants. You may also need to look into machinery hire, such as a cement mixer.
Driveline's van and truck rental services will ensure you have reliable transport to assist your garden transformation.
Take your garden waste to the tip in a van and transport your purchases such as paving slabs, concrete, plants and garden furniture from the garden centre to your home.
It's so much more convenient to bring home your own items, rather than waiting around for deliveries. It can also prove more cost-effective to hire a van, particularly if you're buying a lot of items – some delivery charges can be quite extreme!
Please contact us today to find out more about our van rental services. Happy gardening!