Although the long, cold winter has seemed never-ending, spring is just around the corner – and Cornwall is the best place to be, thanks to its beautiful locations, fresh air, wildlife and blooming hedgerows that are a blaze of colour.
Although the temperature in spring is a few degrees cooler than in summer, this shouldn't stop you from taking in the sights. It may feel a little fresher, but springtime in Cornwall is often one of the sunniest times of the year.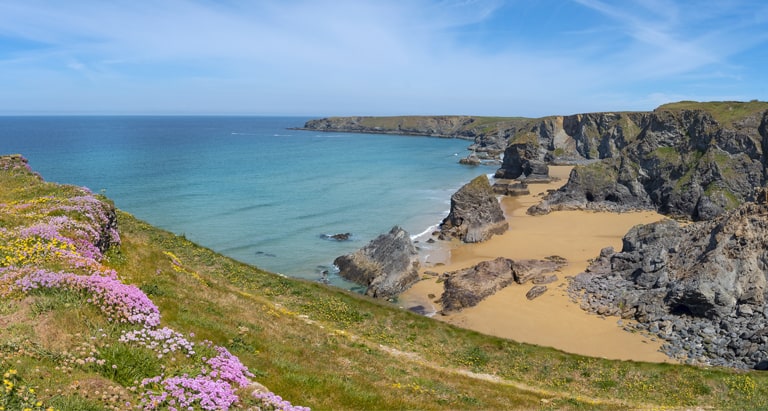 © Edward Nurse / Adobe Stock
When you've been cooped up watching the stormy weather for weeks, there's nothing better than visiting some of the UK's best beauty spots. Pack up your troubles and set off to enjoy the picturesque Cornish countryside!
Events and festivals
Spring is a time of annual festivals and special events throughout Cornwall – there's fun for people of all ages. Some events date back hundreds of years and have their origins in Pagan rites, while others are relatively new.
Visitors and local people alike will be attending the famous festivals this spring, including Trevithick Day at Camborne on 25th April, when steam engines, street entertainment, dancers, bands, stalls and a funfair will entertain the crowds.
The annual Obby Oss festival takes place in the town of Padstow on 1st May. With its origins in the Celtic feast of Beltane, the event attracts around 30,000 people. It's famous for parading giant hobby horses around the streets!
Helston Flora Day on 8th May invites local people to celebrate the end of winter and the start of spring. Parading and dancing in the streets, everyone will be enjoying the festival event that inspired Terry Wogan's famous hit song, The Floral Dance.
Luxulyan Valley
More than 50% of the world's bluebells are in the UK. Anyone who has seen a bluebell wood in the spring will know it's an unforgettable experience.
The thickly wooded Luxulyan valley is located around the River Par. In 2006, it was named as part of a World Heritage Site. A popular spot for both local dog walkers and visitors, it features some of the most scenic footpaths and a dense carpet of bluebells.
Enys Gardens, Penryn
Step back in time when you visit Enys Gardens, which are due to reopen for the 2020 season at the beginning of April. The Enys family has lived at the estate since the first country house was built, prior to the English Civil War, by John Enys, who was born in 1578.
The estate has been handed down through subsequent generations of the same family, although the house was rebuilt after the original was destroyed by fire in the 1820s. The family moved into the rebuilt house in May 1836 and have been in residence ever since. Comprising almost 1,000 acres of woodland and farmland, the estate was a fully operational until World War II.
Dog-walking on the beach
During peak season, some of Cornwall's beaches have a seasonal restriction on dogs. It's good news for families who don't have a dog, but not great for people who do. If you visit in spring, the seasonal dog bans aren't yet in place.
Some of Cornwall's beaches are dog-friendly all year round, but if you want to choose the pick of all the beaches, visit in spring.
Motorhome holiday
There's no better way to enjoy Cornwall than by taking a motorhome holiday. Enjoy the comfort of a luxury motorhome and the world's your oyster. There's no need to have a set route and you can follow the open road, taking in as many festivals or local beauty spots as you please. That's just what you need – a holiday with few restrictions and no boundaries!
If you want to discover the endless beauty of our gorgeous county (there's no place I'd rather be), Driveline has a range of modern motorhomes that are perfect for getting away from it all with family and friends!
Please contact us for further details.