The comedy film, Cheaper by the Dozen, is about an American couple with 12 children who relocate to the suburbs when the father gets a new job. However, they soon realise moving their extra-large brood to a new area isn't an easy task, when their home-life and the kids' education begin to suffer as a result.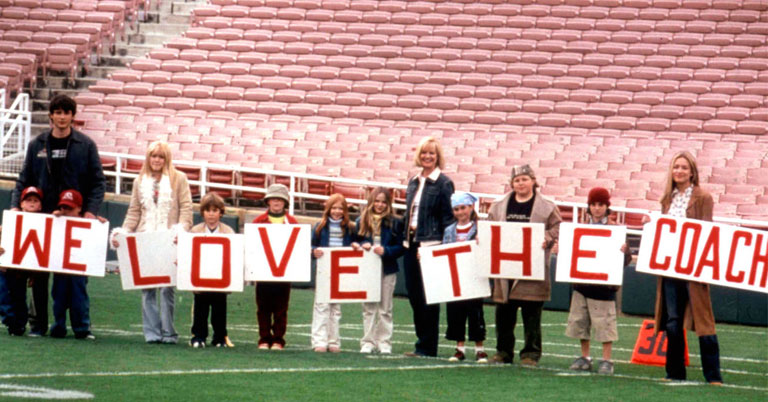 © Moviestore collection Ltd / Alamy Stock Photo
The film is based on the true story of Frank and Lillian Gilbreth, who raised 12 children themselves in Montclair, New Jersey, in the early 20th century. This year marks the 70th anniversary of the publication of their daughter Ernestine and son Frank junior's best-selling biography, Cheaper by the Dozen, which they wrote jointly in 1948.
The title of the book and film is based on Frank senior's jocular response when questioned about why the couple had so many children. When complete strangers approached them in the street to ask, he would pretend to ponder the question and would then quip, "They come cheaper by the dozen, you know!"
The book was first made into a film in 1950 by 20th Century Fox, followed by a remake of the original movie in 2003, starring Steve Martin and Bonnie Hunt as the father and mother, Tom and Kate Baker. The film transports the action into the modern era and the father has become a football coach.
In real life, he was an industrial engineer and management consultant, known for compiling time and motion studies. Both Frank senior and Lillian were efficiency experts, who ran their home with military precision.
Movie plot
The film begins with Tom, a football coach at a rural college in Midland City, Illinois, being offered a prestigious new job as coach at the university he once attended in his hometown of Evanston. He discusses the unexpected job offer with Kate and decides to accept.
Although they have a pleasant enough lifestyle in Midland City, they think it will be a step up and lead to a better standard of living. However, the children have other ideas and don't want to move, even though their father's new job will offer a higher salary.
Daughters Nora, Lorraine and Sarah, sons Henry, Charlie, Mike, Jake and Mark and both sets of twins, Jessica and Kim and identical twins, Nigel and Kyle, demand a family vote on whether they should stay or go. Tom ignores the kids' wishes and forges ahead with the move, genuinely believing he's doing the right thing for his family.
Reluctantly, the children have no choice other than to go along with the move, but the atmosphere at their new home intensifies because they don't want to be there. This reflects on their school work too.
Meeting the new neighbours
Things don't go well when the Bakers meet the new neighbours, Bill and Tina Shenk and their son, Dylan. First of all, the Bakers' large dog, Gunner, comes bounding across the room and hurls himself at Mrs Shenk in a friendly but exuberant greeting, almost knocking her over.
Embarrassed, Tom cracks a joke about how she must be "hiding a cheeseburger" somewhere, but Mrs Shenk isn't amused, replying rather snootily, "I don't eat meat!"
When Mrs Shenk finds out the Bakers have 12 children, she is visibly shocked – an emotion replaced by fear when she's almost hit in the face by a stray ball from an impromptu game of hockey on the laminate floor upstairs!
Little does she know her own son is playing too – and next minute, he comes flying over the balcony when he can't stop, ending up hanging off the chandelier for dear life! As first meetings go, it couldn't be much worse!
The Bakers do their best to settle in, but when Kate, an author, is invited to embark on a promotional book tour, home life descends into chaos after Tom tells her she should go and that he'll be okay looking after the kids.
Not wishing to ruin her book tour, he tries his best to hold it together so that when his wife phones to see how they are, she won't realise what a nightmare he's having, as the kids literally run riot.
Young runaway
Eventually, Tom "hires" his oldest daughter, Nora, and her self-self-obsessed boyfriend, Hank (played by Ashton Kutcher), to help care for the younger children, but they object and secretly soak Hank's boxer shorts in meat juices – before unleashing Gunner on him! Gunner leaps at Hank and knocks him over. In the ensuing chaos, Nora storms off with her hysterical boyfriend, whose trousers are ripped to shreds, while the culprits try their best not to laugh!
Kate eventually hears about the chaos at home and cuts short her book tour, instead receiving publicity through an appearance on the Oprah Winfrey television show. Everything goes wrong when Mark's pet toad dies, and he's so upset that he runs away from home to try and return to their old house back in Midland City.
Some serious soul-searching follows as the Bakers realise their move has been a disaster from the onset – but is it too late to turn back the clock and move back home again?
Make yours a Driveline move!
It is a fact that moving is one of the most stressful experiences that we will encounter in our lives. Although it might be a happy occasion, it is still a disruption to our normal daily routine and it can take a while for the dust to settle when we arrive at our new address.
If you're planning to move home (or office), get your journey off to a great start by hiring a reliable removal vehicle from Driveline. Our van and truck rental services will ensure the transport is one aspect of the move that you won't have to worry about!